Gift giving – never before in the history of mankind have we, as Americans, had the ability to buy so much stuff! The choices are overwhelming. In some cases if its a birthday or Christmas, the inner dialogue may go like this:
Gift Giver: "I have no idea what to get this loved one, they have everything. I guess I'll steel myself for the hunt, go to the mall and dredge up something for a gift that they hopefully will like and don't have."
Receiver: "Hmm, it's my birthday, I wonder what kind of strange, weird and unusable thing I'm going to get as a gift this year? Well, if I don't like it I can always put it in the plastic storage bin in the garage, attic, basement or workshop. Shame on me, but perhaps I can "re-gift" it to someone else, but that always makes me feel so guilty. I know, I'll drive about an hour away and give it to the Salvation Army, that will make me feel good. I'll just hope and pray nobody asks about it."
I often think of archeologists several hundreds of years from now, digging up our plastic bins, full of all those unwanted gifts. What will they think of another graveyard of cell phones, strange bacon cookers, sports team mugs, more miracle cleaners and miracle glues, collapsible garden hoses, banana trees, cheese graters, etc.
You could keep doing what you've always done or…
you can be like Denise, who commissioned a surprise painting for her husband's birthday!
Denise: "I have no idea what to get my dear husband Bill for a birthday gift, but I wonder what would really make him happy? I know, I'll have Laura paint his favorite photo, the one with Bill and his grandson!"
While it's more than a dinner out, a t-shirt, a mug, or even a new cell phone. This will be a treasure that can be passed down for generations; it speaks of a wonderful relationship that has special meaning. So let's see how this incredible gift worked out.
The Gift
Prior to painting, I did sketches and thumbnails, as it was just a cell phone photo. It's always better to work with the best photo possible!
I toned this 11 x 14 canvas light lilac, I wanted a warm glow to the painting: 
The pallet, the photo, my thoughts on the acrylic paint needed:
The first application of paint, darks and lights: 
Scary looking, but we are getting there: 
Refining some shapes and masses: 
Bill & Denise after church: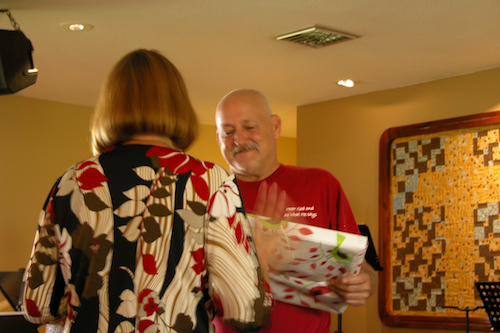 Not a good photo, but the emotion is there!: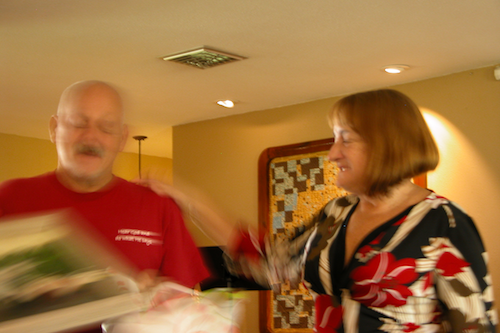 A very happy Bill with Denise and me: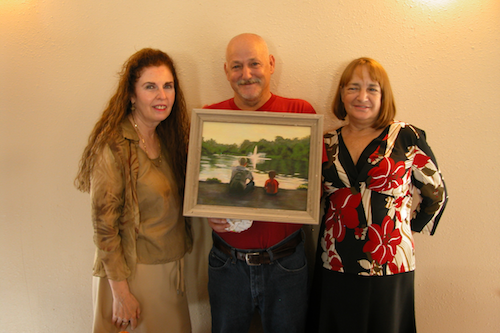 Isn't this a keepsake? Something that will last a lifetime! 
So next time you're faced with the dilemma of getting a gift for that hard-to-buy-for loved one, consider investing in an original piece of art. I'd love to paint a treasured memory for you or as a gift. Contact me at laura@lgabel.com with your ideas.